Managing Partner
Andrew J. Zammit
Bio
Andrew is the firm's managing partner and is actively involved in mergers and acquisitions, corporate finance, licensing of financial services businesses with the Malta Financial Services Authority (MFSA) and banking and finance transactions. He has a passion for businesses within the TMT and Fintech space, having pioneered the licensing of various fintech and online gaming operators in Malta, and led various corporate acquisitions including the sale of Malta's largest quad telecoms player, and many significant acquisitions within the online gaming sector.
Andrew currently holds the position of Council Member of the Institute for Financial Services Practitioners.
Education & Court Admissions
Andrew graduated from the University of Malta in 1999 (Doctorate of Laws) and subsequently pursued a Masters of Law degree at the London School of Economics and Political Sciences (LSE) in the areas of Company Law, Financial Services Regulation, The Law of International Finance and International Trade Law, which he completed successfully in 2000.
Languages
Andrew is fluent in English, Maltese, Italian and French.
Rankings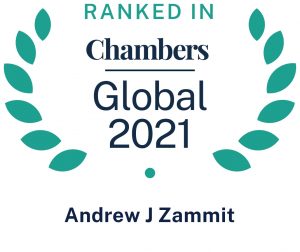 Contact
GVZH Advocates
192 Old Bakery Street,
Valletta,
VLT 1455,
Malta
info@gvzh.mt
Testimonials
Leading Individual – Commercial, Corporate and M&A | Clients highlight that Andrew Zammit is 'very responsive; business-minded, practical advice.' | 'Andrew Zammit is simply outstanding. Commercial, fast and experienced.'
Legal500 | 2021 Edition
Andrew Zammit is considered by a client to be a "very knowledgeable lawyer with business sense and drive" and is singled out by one source as "one of the best gaming lawyers in Europe."
Chambers & Partners | 2021 Europe Edition
Andrew Zammit acts for clients on the buy and sell sides of corporate transactions. Clients appreciate his "ability to communicate the strategy and rationale behind his advice." They also highlight that he is "efficient in working under tight deadlines in complex transactions, while demonstrating a friendly approach and great interpersonal skills."
Chambers & Partners | 2020 Edition
Andrew Zammit acts for financial services clients on M&A transactions and finance mandates. Clients value his availability, with one source noting: "When we ask for thoughts straight away he is extremely helpful," and they appreciate his efficiency in "working to extremely tight schedules."
Chambers & Partners | 2019 Edition
Managing partner Andrew Zammit is experienced in a wide range of corporate law, including assisting clients with employment-related matters as well as financings and transactions. Market commentators recognise him for his "big thinking" and leadership.
Chambers & Partners | 2018 Edition
Andrew Zammit is deemed sharp and hard-working and has all the good qualities that a lawyer should have.
Chambers & Partners | 2017 Edition
Job highlights
Assisting eToro obtain an Electronic Money Institution (EMI) licence from the Malta Financial Services Authority and establish their operations in Malta (April 2021)
Advising EPIC Communications Limited (formerly Vodafone Malta Limited) in relation to a corporate restructuring and the spinning-off of their base transmission station (BTS) assets in the context of a sale to Phoenix Tower international (March 2021)
Advising OPAP Investment Limited on their acquisition of a controlling interest in Kaizen, a Malta-based online gaming operator (March 2021)
Assisting Calamatta Cuschieri with obtaining an Electronic Money Institution (EMI) licence from the Malta Financial Services Authority for their fully owned subsidiary Moneybase Limited
Advising Mastercard on the roll-out of various programmes and initiatives in the Maltese market (ongoing).
Advising the American Insurance Group (AIG) on various aspects of their Maltese operations (ongoing).
Acting as Malta counsel to Apax Partners Midmarket SAS in respect of their acquisition of 100% of Melita, a leading converged telecommunications operator in Malta, and on all Maltese law aspects of the financing of the transaction (February 2016).
Assisting the vendors of Tipico in the context of the 100% equity buyout by CVC Capital Partners (February 2016)
Memberships/ Professional Affiliations
Malta Chamber of Advocates
International Bar Association
International Tax Planning Association
International Fiscal Association
Employment Law Alliance
International Masters of Gaming Law
Institute for Financial Services Practitioners
FinanceMalta
Malta Maritime Law Association