Undertakings for Collective Investments in Transferable Securities (UCITS)
MFSA issues Circular on Long Term Investment Funds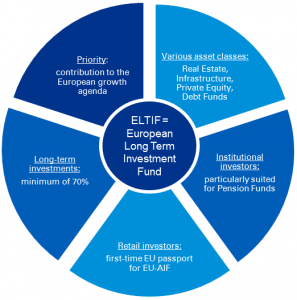 The European Parliament and the Council have recently introduced the Long Term Investment Funds Regulation, which is also commonly referred to as the "ELTIF Regulation". Primarily, this investment structure was set up to invite investors to utilize this new collective investment scheme and to promote long-term investments in companies and projects. Additionally, the regulation aims at providing more funding opportunities for companies that are seeking long-term capital for activities relating to real estate, infrastructure, energy, and transport. The Investment Services Act (European Long-Term Investment Funds) Regulations were enacted in Malta in order to grant the MFSA the capacity to properly implement the Regulation.
An ELTIF is a fund which must be managed by an EU alternative investment fund manager ("AIFM"). This suggests that both the ELTIF and the designated manager will fall within the ambit of the Alternative Investment Fund Managers Directive ("AIFMD") in addition to the ELTIF Regulation.
Managers of ELTIFs are subject to specific conditions that are provided for by the said Regulation relating to eligible investments, investment policies on portfolio composition, rules of diversification, transparency, marketing and redemption. Furthermore, an ELTIF manager is also bound to observe the provisions set out in the AIFMD so as to provide adequate safeguards for his investors.
One of the ELTIF's primary objectives is to invest in long-term assets that are inherently not liquid and which are considered to be too complicated to value. Indeed, ELTIFs are bound to invest 70% of their capital in the below mentioned eligible investment assets:
equity, quasi-equity or debt instruments that have been issued by qualifying portfolio undertakings, which are essentially non-financial unlisted companies or non-financial listed companies with a market capitalisation of less than €500m and which are established either in the EU or in a third country meeting certain requirements as stipulated in the Regulation;
loans granted by the ELTIF to a qualifying portfolio undertaking;
units or shares of other ELTIFs, European Venture Capital Funds ("EuVECAs") and European Social Entrepreneurship Funds ("EuSEFs") that have not themselves invested more than 10% of their capital in ELTIFs; and
direct or indirect holdings via qualifying portfolio undertakings in individual real assets with a value of at least €10m or its equivalent.
Furthermore, the Regulation includes limitations with respect to borrowing, such as the ban on any borrowing that equates to more than 30% of the value of the capital of the fund.
Another characteristic of ELTIFs is that the redemption of both units and shares pertaining to this particular type of fund is not permitted earlier than the expiry of its lifetime.  Nonetheless, this rule is not absolute, in the sense that the right of redemption may be exercised under certain conditions which are specifically provided for in the Regulation.
ELTIFs target both professional investors and also retail investors. With respect to the latter category of investors, the Regulations additional requirements to the requirements that are already provided for in Directive 2011/61/EU, so as to properly guarantee suitable safeguards. In addition, it is also necessary to implement reasonable transparency requirements so that those investors who are interested in this fund may use their opportunity to make an informed decision and they should also be fully aware of the risks which they may face. Indeed, the EU requires ELTIFs to issue a prospectus and if such ELTIF targets retail investors, a detailed document must be submitted which must comply with the provisions of the PRIIPS Regulation. Both the prospectus and the document should bring to the attention of the investors the non liquid characteristic of the ELTIF. In addition, an ELTIF must publish an annual report in conformity with the provisions of the AIFMD, and other information should be divulged, for instance a cash flow statement and details on any activities relating to instruments concerning Union Budgetary funds.
Another favourable characteristic of an ELTIF is that it can be passported even if sold to retail investors. This characteristic distinguishes an ELTIF from other AIFs which only offer passporting rights to professional investors. To this effect, an ELTIF's manager is bound to set and bring into effect certain internal procedures for the evaluation of the ELTIF's propriety for marketing to retail investors. Moreover, when the availability of units or shares is brought to the attention of retail investor, the manager must ensure that the said investor has the knowledge, capacity and understanding to invest in this fund.
The MFSA Circular may be viewed here.