Banking & Finance
LSE Alumni Organise BREXIT Lecture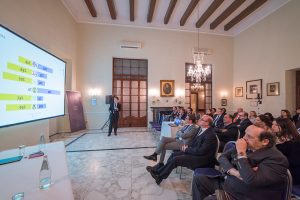 On Wednesday 15th February, the London School of Economics (LSE), through its local Alumni Association and with the support of GVZH Advocates, the Chamber of Advocates and the Institute of the Financial Services Practitioners (IFSP) hosted a public seminar about Brexit and its expected effect on the UK and the EU. The lecture was delivered by Dr Tim Oliver at the Casino Maltese in Valletta, Malta.
Dr Oliver discussed how Britain's vote to leave the EU came as a shock to many in Europe and internationally, raising concerns that Britain is heading towards isolating itself, not only from the rest of Europe, but taking a more populist, inward-looking, mercantilist view towards international relations. He also observed how supporters of Brexit countered by arguing that in joining the EU, the UK "shackled itself to a corpse" and that leaving will allow Britain and the EU to develop a more constructive relationship while also allowing the UK to return to a more global-orientated than European-focused foreign policy.
Dr. Oliver is the Dahrendorf Fellow for Europe-North American relations at LSE IDEAS and a Teaching Fellow at UCL. His research focuses on UK politics, UK defence and security policy, UK-EU relations, European geopolitics and transatlantic relations.
Dr Andrew J. Zammit, leader of the LSE Alumni Association in Malta said "We are absolutely delighted to have organised this public lecture covering such a topical subject which is clearly going to leave a huge impact on the EU as we know it. Dr. Oliver's insights were valuable and thought-provoking and we sincerely thank him for captivating the audience. As one of the world's most active research centres, the LSE is at the cutting edge of political and economic sciences, and having lecturers of this caliber visit us to share their views is certainly a formula that we look to continue developing in the future, not only for LSE alumni but also for the public at large."
GVZH Advocates plans to support similar seminars in the future. Should you would be interested in attending, please contact us at info@gvzh.mt.